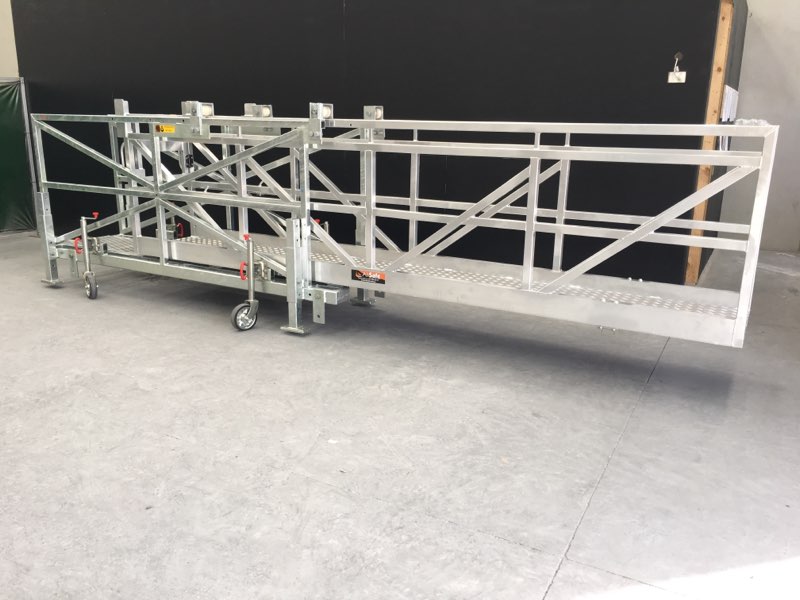 08 Dec

SkyDeck – Tower Crane Bridge or Crane Access Bridge

Over the past few years AliSafe has been working with a few builders to develop a new way to gain access to a Tower Crane. Previously, the only way to do this was via scaffolding. This took time and was expensive but now the SkyDeck from AliSafe has changed that and gives easy access via a Tower Crane Bridge or Crane Access Bridge
SkyDeck makes it easy
The new design allows for easy and quick assembly, removal and repositioning all with a matter of minutes. To do the same job with scaffolding could take an entire day in same cases. The SkyDeck arrives on site and goes straight from the truck to the floor requiring access.
Cost and time
Previously to gain access from a building to a Tower Crane you would need to arrange scaffolding to be loaded and sent to the correct floor. Arrange a team of scaffolders to assist in the erection of the bridge and have it checked every 30 days. Then when it needs to be repositioned a team of scaffolders would pull it all down, move floors and reassemble.
SkyDeck takes the cost and headache away
Now a single person can install, remove and relocate the Skydeck within minutes. No special tools required. No special labour required. No need to arrange and then coordinate 3 or 4 different activities to install the bridge. Easy and quick. The Tower Crane Bridge or Crane Access Bridge is here.
The Skydeck will fit any gap from 2m to 6.5m and is lightweight. Its the perfect way to quickly access the crane on your site in as little as 30mins. Compare that to the old scaffolding way.
Sales and Hire
The Skydeck is available to sales or hire. So call today and AliSafe can organise a Crane Access Bridge or Tower Crane Bridge quickly and easily.